Newsletter Job4life Foundation October 2015
Dear people,
Here you receive an overview of our goals achieved this year.
COLLEGES IN INDIA
Ramya
We are proud to announce that Ramya thanks to the Job4life Foundation has started her course B. Pharmacy at the College of Pharmacy Bapatlain Guntur, in the province of Andhra Pradesh.
Ramya has worked hard the recent years in high school, and completed it with very good results. Unfortunately there were no funds to pay her college, so she could not go for college. A big problem!
As President of the Foundation Job4life I visited India during October, and took Ramya to the study she had in mind. After a drive of total six hour, we got her registered and paid the fees.
Ramya is now able to study the following years without any delay or troubles.
As already addressed in my previous newsletters, the tuition fee is a high cost in India, for such a study of four years includes accommodation and food in a hostel (a kind of boarding school) the cost is US 6.600, -
I am convinced that Ramya has a good future ahead with this study. This also proves the excerpt from the letter which she wrote me a few days after. Normally I won't show letters / correspondence in my newsletters, but this is to make a statement to show how much they want to work hard for their studies, to continue to determine their own future path.
By the way, Annaya stands for 'brother' :-)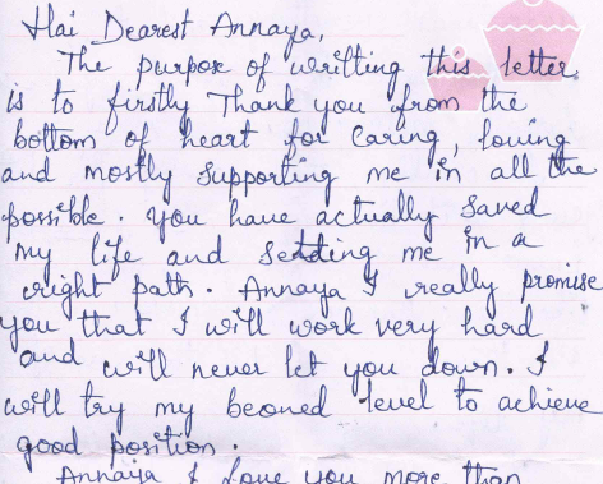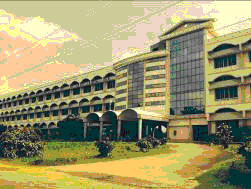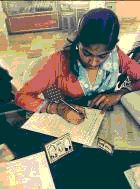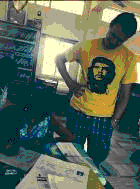 Ramya registers at her Bapatla Collegeof Pharmacy
Ammulu
Also, with great pride we announce that Ammulu has been able to give a good sequel to her high school. She is now studying B.Sc. Agriculture at the Greenfields Institute of Agriculture in Vijayawada, this is also the city of the orphanage where she grew up.
I know Ammulu since 10 years ago, she grew up in a hostel run by nuns in a Telugu medium school (Telugu is a regional language in India, one of the many). By visiting her I was able to see that she was very smart for her age, it was not long before she was transferred to an orphanage in Vijayawada, were English medium was oriented. Despite its backlog in the English language within six months she was that all mighty!
For Ammulu the recent years were not been without setbacks, she still has a mother, but as far as I know since her 13th birthday it's the mothers 'wish' -or perhaps better said, DEMAND- to get her married as soon as possible! Likely to see some money come in the very poor family again. Terrible as this would have happened, luckily Ammulu remained strong all these years, and deliberately dissociated herself (one of the reasons for transfer to a hostel far away), to study in order to its own future determine.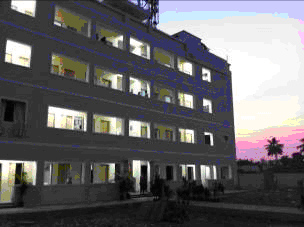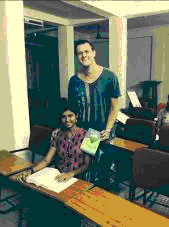 Ammulu at her college, the Green Fields institute of Agriculture
This course also brings a high costs, for this study a US 8.250 inclusive stay in a hostel! Job4life has agreed in consultation with her Dutch foster parents to pay half of her study.
These are one of the many possibilities, the children who are now studying are actually no children anymore, they are now 17-18 years old. From an early age they often have a European foster parent (which they call their sponsor mummy -or daddy) an amount monthly transfer of about US 38, - for basic education, housing and food. From this monthly allowance this course can be not funded, but in this case her foster parents had a budget ready for her further studies. Job4life so only had to pay the additional amount.
Shanti
In our previous newsletters you could read all about Shanti, she is now studying in the 2nd year of the BA program Psychology English Literature & Journalism at the Loyola College in Hyderabad.
Her study will cost US 3.000, - including accommodation in a hostel.
Shanti wrote a short update for this newsletter:
"Basically my course is three major groups Psychology, English and Journalism. After my course I'm planning to work somewhere in a familiar place for a company.
I'm wishing to become a good citizen and a good hard worker and help others like me who dream about what they want to become. Shanti"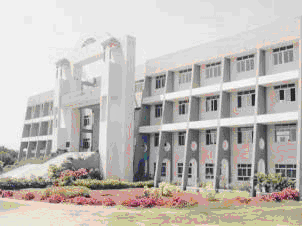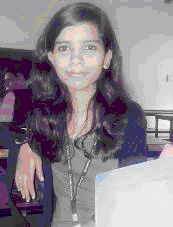 Shanti at her college, the Loyola Collegeof Hyderabad
For the future, there are already a number of children in the spotlight at Job4life. We would like to give everyone the same chance, but because the available budget, we have to make choices. There is now a kind of "talent pool", where children with appropriate school results and good motivation are eligible for our help. This help goes from selecting a correct college to the funding in this.
At present, we put all our energy to give a good sequel Asha Jyothi her study. Her sponsor is due to unforeseen circumstances, forced to stop paying her studies. So she can not continue her studies.
She studies also B.Pharmacy like Ramya and her first year is already over. She now needs another three years. Will you help along?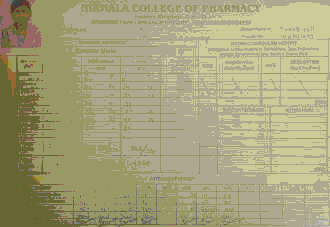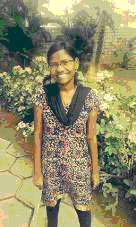 Asha Jyothi's 1st years report at the Nirmala Collegeof Pharmacy
TULIP GARDEN
This year we were able again to buy the necessary school supplies for the children of Tulip Garden.
Tulip Garden is a project of the Foundation Tulip Gardentrust, they have many children in this orphanage, and provide them all their needs.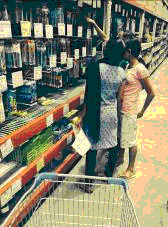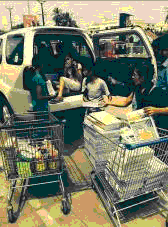 The children of Tulip Gardenduring the purchase of the necessary school supplies, the value in shopping carts is around US 550.
These kids are all studying on an English Medium school, last year Job4life managed to afford the school fees á US 6.000 for all 29 children.
The children are all good and it was fantastic to see them again during the visit in October.
We hope that we are able to offer our help again for the next school year. Good education unfortunately has a price tag. Any help is welcome!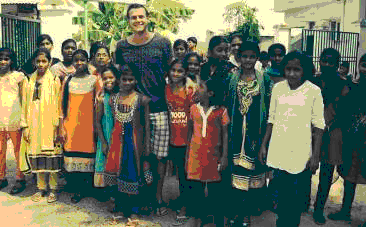 The kids of Tulip Garden
WILL AND THE PEOPLE
What began in 2014 with a try-out tour has won the hearts of the men of the British band Will and the People for the lovely Indian children. Will and the People's love for the children has been given a similar mutual form in the Indian general public! February 2015, during the 2nd Indian tour, WATP was already performing at the prestigious SULAFEST to Nashik for approximately 15.000 people !
Besides a great festival also an excellent platform to bring Job4life's ideas to the Indians. At each interview in several major Indian newspapers as well as television and radio WATP showed their love as great ambassadors, with their hearts in the right place. The best PR you could wish for!
During a large successful tour Will and the people also visited Tulip Gardenagain, where WATP surprised the children with a nice acoustic performance, the roof then went off!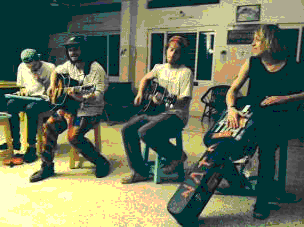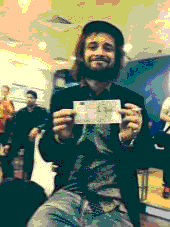 Will and the People's acoustic performance Will donates the Tulip Gardenkids
A nice day out!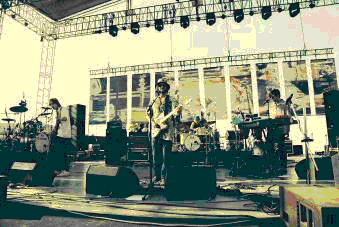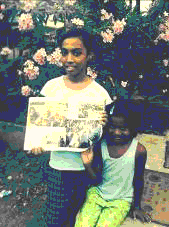 Picture of the prestigious Sulafest festival, in the photo on the right Afrena and Joshna of Tulip Garden
are showing the article from the great Indian lifestyle magazine PLANET GOA.
As you can read there happened a lot. Of course, the desire is there to do much more, but none of this would be possible without the help of donors, who besides financial support also give their trust. Like last year, this year again a special mention to the Van't Hof family, thanks to their generous gift we could Ramya immediately start her study, great stuff!
This newsletter is to show the things we are doing thanks to your donations, and that you feel the need to keep doing what you are doing.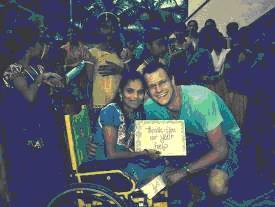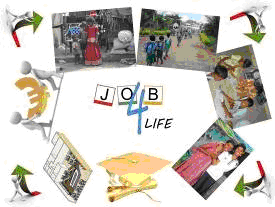 All the love!
Martin – Job4life Foundation – IBAN: NL97 INGB 0004 8845 52 – BIC: INGBNL2A – www.job4life.org